See on Scoop.it – Tracking the Future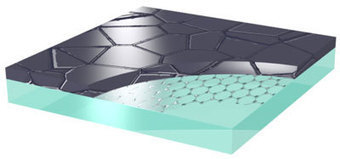 Graphene has extreme conductivity and is completely transparent while being inexpensive and nontoxic. This makes it a perfect candidate material for transparent contact layers for use in solar cells to conduct electricity without reducing the amount of incoming light – at least in theory. Whether or not this holds true in a real world setting is questionable as there is no such thing as "ideal" graphene – a free floating, flat honeycomb structure consisting of a single layer of carbon atoms: interactions with adjacent layers can change graphene's properties dramatically.
Now, Dr. Marc Gluba and Prof. Dr. Norbert Nickel of the HZB Institute for Silicon Photovoltaics have shown that graphene retains its impressive set of properties when it is coated with a thin silicon film. These findings have paved the way for entirely new possibilities to use in thin-film photovoltaics.
See on www.nanowerk.com