See on Scoop.it – Tracking the Future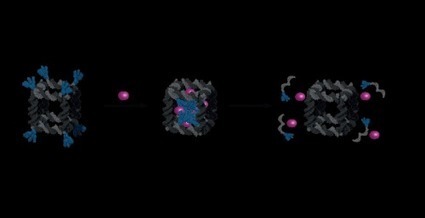 Nanoscale "cages" made from strands of DNA can encapsulate small-molecule drugs and release them in response to a specific stimulus, McGill University researchers report in a new study.
The research, published online Sept. 1 in Nature Chemistry, marks a step toward the use of biological nanostructures to deliver drugs to diseased cells in patients. The findings could also open up new possibilities for designing DNA-based nanomaterials.
"This research is important for drug delivery, but also for fundamental structural biology and nanotechnology," says McGill Chemistry professor Hanadi Sleiman, who led the research team.
See on phys.org