See on Scoop.it – Tracking the Future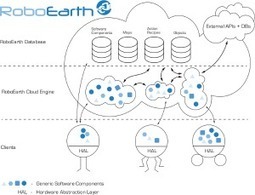 A group of European researchers has released the first version of a cloud computing platform for robots that will help them take advantage of powerful virtual resources. Essentially, they're treating robots like any other device — desktop, tablet or mobile phone — running web applications, only robots can learn from each other and can do a lot more than just update screen displays.
The project, carried out by a team at ETH Zurich, is called RoboEarth and its linchpin is a cloud software platform called Rapyuta. The way it works is pretty simple at a high level: robots communicate with a cloud-based application platform that carries out computation tasks and connects to a cloud database full of information such as maps, images, language, as well as to other web services. The robots themselves are pretty much hardware terminals equipped with sensors and moving parts but limited on-board processing power or data storage.
See on gigaom.com