See on Scoop.it – Tracking the Future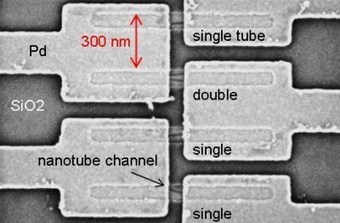 Carbon nanotubes are tiny wires that can conduct digital computer signals at five times or ten times the speed of traditional silicon chips. They have been around since the 1990s, but researchers have had a tough time getting them to behave. When they try to line these wires together in a useful grid as part of a computer design, they have a tendency to behave like wet spaghetti noodles.
But IBM is announcing today that it has taken the first real steps toward commercial fabrication of carbon nanotubes on top of a silicon chip. IBM has made transistors — the basic components of electronic computing — from nanometer-sized tubes of carbon and put 10,000 of them on top of a silicon chip using mainstream manufacturing processes.
See on venturebeat.com