See on Scoop.it – Tracking the Future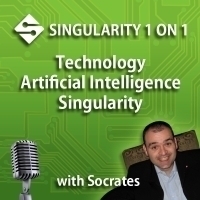 Help my friend Socrates to spread the word on Singularity 1 on 1
Singularity 1 on 1 is a series of podcast interviews with the best scientists, writers, entrepreneurs, film-makers, journalists, philosophers and artists, debating the impact of technology, exponential growth, genetics, robotics, nanotechnology, artificial intelligence and the technological singularity.
Singularity 1 on 1 has established itself not only as the first podcast of its kind but also as the most prominent one. The show has been consistent in delivering unique content via direct one-on-one interviews with high-profilers in an environment of unmatched authenticity, easy and open public access and total transparency.
Nikola Danaylov (aka Socrates) is a philosopher, singularitarian, and infopreneur. Born in Bulgaria, he moved in 1998 to Canada where he completed an HBA in Political Science, Philosophy and Economics at the University of Toronto plus an MA in Political Science at York University.
Support Singularity 1 on 1, donate and spread the word!
See on www.indiegogo.com