See on Scoop.it – Tracking the Future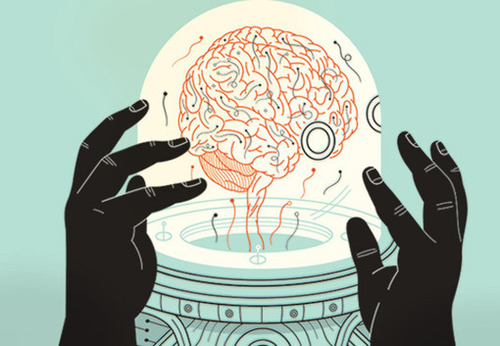 In the basement of the Northwest Science Building here at Harvard University, a locked door is marked with a pink and yellow sign: "Caution: Radioactive Material." Inside researchers buzz around wearing dour expressions and plastic gloves. Among them is Kenneth Hayworth. He's tall and gaunt, dressed in dark-blue jeans, a blue polo shirt, and gray running shoes. He looks like someone who sleeps little and eats less.
Hayworth has spent much of the past few years in a windowless room carving brains into very thin slices. He is by all accounts a curious man, known for casually saying things like, "The human race is on a beeline to mind uploading: We will preserve a brain, slice it up, simulate it on a computer, and hook it up to a robot body." He wants that brain to be his brain. He wants his 100 billion neurons and more than 100 trillion synapses to be encased in a block of transparent, amber-colored resin—before he dies of natural causes.
Why? Ken Hayworth believes that he can live forever.
But first he has to die.
See on chronicle.com